Best way to experience Zadar as whole; via coastal boat ride
Duration
2 hours 30 minutes
Best way to experience Zadar as whole; via coastal boat ride
Duration
2 hours 30 minutes
TRIP INFORMATION
Panorama cruise is journey by boat across Zadar's Canal and nearby coast of Island Ugljan, panoramic sightseeing of authentic and traditional Dalmatian island villages (Preko, Kali, island Ošljak) with possibility of short stoppage on a tiny Island Ošljak (the smallest inhabited Croatian island). Its total area is 0.3 km² and it lies just off the Dalmatian coast between Zadar and the island of Ugljan. Enjoy the beautiful panoramic view, as well as a close view of historic Zadar. This tour is recommended for organized groups with a limited stay in Zadar.
Reservations : recommended at least seven days in advance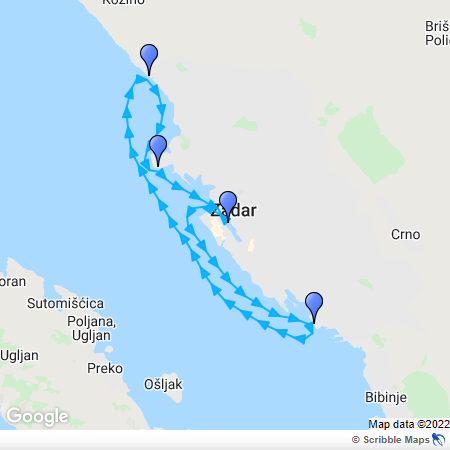 TIPS:
An absolute must during your stay in Zadar.
Magnificent panoramic view of Zadar.
DAY TRIP - Zadar canal cruise
Groups only
Price includes welcome drink and water.
NOT SUITABLE FOR:
– People with limited mobility
– Pregnant women
– Heart disease patients
– People with poorer physical fitness